I went to see Moana this past weekend and, unsurprisingly, really enjoyed it. An action-adventure mythology tale with a prominent Trickster figure and a female lead is pretty much a perfect fit for a story I'm guaranteed to enjoy. This is not to say I'm not a Disney critical thinker; I have certainly applied the word "Disnification" to folk and fairy tales to imply the tale is reduced from an earlier form. That gets even more complicated beyond the Western fairy tale cannon (see footnote about indigenous commentary—worth checking out!). So I've always been a fan of expanding knowledge of a Disney animated feature's background stories, whether that's with the slew of international Cinderella tales, rereading Anderson's The Little Mermaid or The Snow Queen, or, in the case of Moana, doing some research into previously published Maui stories, especially the ones accessible to the same audience who will be attracted to the film.

So here's the beginning of my research into Maui stories. I am likely to post this on my website for others to reference and so it's easier to update, and I'll put a link in this post when I do. My links are to B&N or the publisher's site if the book is currently available new, and Alibris if it's only available used. I've put in cover images where I could find them. If you know of additional Maui books available for younger readers, I'd be delighted to list them here, especially if they come recommended! I've not yet read any of these, so it's a resource list, not a recommendation (though I hope many of them are good!).
Also worth mentioning is
Maui the Demigod
by Steven Goldsberry, Poseidon, 1984. It's an adult novel that retells several Maui tales. I've also had recommended for this list the children's novel
Call It Courage
by Armstrong Sperry, which won a Newberry in 1941, and I list it here with the caveat that several Goodreads reviews mention that it is very much of its era and gives a very European-centric impression of Polynesia.
[
Updated 11/30:
For those looking for indigenous criticism of the film, there are some interesting discussions
here
,
here
,
here
, and
here
.]
Top 5 Reasons Not to Call Someone Racist
."
--
We've all been there. Someone in class or in the dining hall or at work says something that's racist or makes a racist joke. It's possible that they're just using a word they didn't know was offensive. It's also possible that they're cracking racist jokes because they have deep seeded prejudices that no one's ever called them on. It's often hard to know what to say in the face of blatant racism, and I know that as much as I try to be a good ally, I falter sometimes, unsure how to respond to a casual phrase that I know is offensive. Here are some tips on how to respond to racist jokes.
If they're well-meaning, consider correcting them
I remember being corrected for using the word "token" in a conversation—I had thought it meant the single representative, like "Smurfette is the token female Smurf." But the truth is, it implies that the person has no other value than the reason they're a "token" member—kind of like Smurfette. I should have been able to figure that out on my own, but until it was pointed out to me, I just didn't get it.
Some of your peers may respond well to being corrected. They may, like me, be horrified to learn that a phrase has a meaning they didn't intend and be ready to strike it from their vocabularies. Or they might not, but in a situation where you don't need to interact with a person regularly, it might still be worth pointing out that the comment they made was racist. In the NPR article "
How Should You Respond to a Racist Comment?
" posted July 23, 2006, ethicist Randy Cohen advised, "I don't think you have an obligation to reform the world, but it's an awfully good thing if you have it in you to not let such things pass, if you can stand up for it."
Don't laugh
If someone is making a racist joke—especially someone who is in a position of power over you, like a boss or a professor—one response it simply not to laugh. Nadra Kareem Nittle of
RaceRelations.About.com
, in "
The Top 5 Ways to Respond to a Racist Joke
," recommended that you pair not laughing at racist jokes with laughing heartily at jokes that
aren't
. That's a kind of feedback to show that you're not a stick in the mud, you're just not willing to find racism funny.
Nittle's other tips include:


Walk away. If you hear the racist joke being set up, get out of there before it's told.


Ask the joke teller why the joke is funny. If you "don't get it," they may feel obligated to explain why it's funny… and realize that it's not all that funny on their own. Or you can be more direct and question the assumptions required for the joke to be funny, which are typically negative sterotypes.


Tell a joke about people with their background in response, explaining that you don't find it funny either, because you know the joke teller, and know those stereotypes aren't true. It might shock them into empathy.


Confront them directly and ask that such jokes not be told around you.


It's probably not useful to call someone racist, however. It puts them immediately on the defensive, and may make them unwilling to listen.
How to respond if a friend calls you out
And what if you're the person who unwittingly made a racist joke? The first step is to stop and listen to the friend or peer who is calling you out. Stop. Listen. Don't get immediately defensive, because if you really didn't mean to say something racist, your best bet is to take that feedback and apply it, not protest. And remember, it's not the job of others to correct you; it's your job to try not to be offensive in the first place. Try to appreciate the risk they take in explaining.
We all say stupid things. It's hard to tell when a comment or a joke will go the wrong way—not just with racism but with all sorts of assumptions about gender, sexuality, abledness, education, and culture. Many jokes rely on the ability to lump a group into "other." So tread lightly when you're telling jokes, and listen when others explain how some words have more baggage than you realized. I know that I slip up, despite my best efforts, but the least I can do is keep listening and improving as best I can.
This isn't my normal topic or style for this blog; it's a piece I wrote for another blog, geared toward college students, that the editors couldn't use. In light of a conversation I had with a friend today about her concerns on interacting with certain relatives at Thanksgiving, I thought I'd share the piece in hopes it would be useful. Definitely read the Nadra Kareem Nittle article I link to in full--she has several really useful articles, including another that might be useful for awkward Thanksgiving conversations: "
It's been a long time since I've posted, but I have a lot of news to make up for it!

First: Today is the release of my newest interactive novel game for Choice of Games: Choice of the Pirate. Right now it's priced at $2.99, which is a 25% discount on the full price of the game. It's probably the most ambitious game I've written yet; set in the fictional Lucayan Sea, it borrows all the old pirate tropes from cursed treasure to ghost ships and adds a little extra magic to the mix. I'm very pleased with how it turned out, and I hope that many people enjoy the adventures!


Second: I'll be at the James Blackstone Memorial Library's local author expo tomorrow (5/21) afternoon. If you're in the area and would like to stop by and chat about my novels or games (or just shoot the breeze), please come on down! There are about thirty local authors attending, including reporters and children's book authors, so it should be an interesting mix. I'm not on any of the panels, but I may see about leaving my table for a bit to hear them.
For more information, you can visit the
event website
.
Thirdly: In honor of the game releasing and the author expo, I've finally uploaded the Redemption Trilogy to the major booksellers! You can nnow find them at
Barnes & Noble
,
Amazon
, and
Kobo
.
Lastly: I've accepted a position as Editor in Chief of Outland Entertainment, where I'll be editing a number of very cool comics! You can find out more about us at our
latest newsletter
or by checking out the
comics lineup
!
Myth, the Universe, and Everything,
the biggest of which is the release date for
Regaining Home:
January 26, 2016. You can see the page at
Smashwords
or check out the book trailer (designed by artist Lindsay Archer with music from Common Shiner).
But more on that as it happens. In the meantime, I have a reading report for you! I tracked a bunch of different factors this year just to see how diverse a group of authors I really read.
Including my review books (many of which are picture book length), but not including picture books I read with my kids, my total tally for last year was
179 books.
Of those, 77 were review titles, 116 (the vast majority, including most of my review books) were for kids or YA.


SFF titles came in at 91


Romance came in at only 3 last year


Graphic novels hit 25


Nonfiction came in at 3 (greater than my goal of 1)


Rereads hit 13


Only 3 of my TBR books came out of the pile


I achieved 0 out of a goal of 2 non-SFF/romance/YA/kids novels


And while I picked up a title from an autobio author I hadn't read before (always one of my goals), the author I solicited didn't end up participating in the project, so I'm not entirely sure how to count that one.


My digital and print totals were closer this year: 80.5 for digital and 97.5 for print. (I read one book half on my phone and half in print.)
I didn't track author demographics for any of the review titles, and I only tracked demographics when I was pretty sure I could identify gender and ethnicity. My male/female split was pretty close: 53 male authored titles to 56 female authored titles. I did an Ilona Andrews reread during the year, so a number of books counted in both categories (as Ilona Andrews is actually a husband/wife team). Ethnicity was harder to determine, but for what I could figure out, I read 10 books by authors of color vs. 67 by white authors. Some of those also counted twice when there was an author/artist team for the graphic novels I read.
Now that I'm a little more aware of my reading habits, I'll be interested in seeing if I can intentionally better diversify the list this year--not just with authors, but also hitting those out-of-genre goals.
I hope everyone had a great reading year in 2015!
There's big news here at


Margaret McNellis (@mcnelliswrites) has launched a Kickstarter for her nautical, haunted historical novel, Out of the Sea. I'm super excited for her, and the project sounds fantastic.


Erik Scott de Bie (@erikscottdebie), who I met back at GenCon '06, is involved in another cool Kickstarter: an anthology of short fantasy titled Women in Practical Armor. What's not to like?


Margaret Dunlap (@spyscribe) and Max Gladstone (@maxgladstone) are working together on the serial-fiction-in-the-style-of-a-television-series innovative project Bookburners. Max's first episode is available to read for free, so go get it!


A few great projects happening right now:
Big Summer Road Trip Tour
with four of Tor's authors: Max Gladstone, Elizabeth Bear, Brian Staveley, and James Cambias.
It's always a delight to spend time with fellow Substrater Max Gladstone, and it was really fun to chat with Elizabeth Bear about some of the details of her "Eternal Sky" trilogy. Both Brian Staveley and James Cambias made me intrigued by their work. We all lamented how mass market paperbacks are becoming fewer and farther between (because otherwise I'd have picked up some backlist titles!). We got some excellent selections from the children's department at Bank Square Books (where we also found Waldo), and I'll be looking into sadly unsignable e-book copies of the Tor tour writers' backlist books.
A lovely time was had by all -- thanks to the four authors, a shout out to Tracey Maknis/Trinitytwo from
The Qwillery
, and cheers to Bank Square Books for having such a great event!
Bank Square Books in Mystic, Connecticut had a fantastic signing yesterday! This was the latest stop on the
last year
and
the year before
about my reading goals, I wanted to post last year's results and this year's goals before 2015 progressed too far!
This year, I did not count all the picture books I read, but I did count all my review picture books individually. For the year, I totalled
163 books,
which is up from last year's 129 (probably in part due to counting all the review books individually). There was a method to my madness, however: I wanted to see what percentage of titles were review books as compared to non-review books. Here's some of the interesting breakdown:
89 titles were review books


106 were children's or YA books


Only 12 were graphic novels, which is rather low


I read 7 romance, 69 SFF, and 2 nonfiction
I did reasonably well on my goals. The 2 nonfiction titles beat my goal to read just 1. I read 13 out of the 15 novels from my TBR pile I'd hoped to read, 4 titles by autobio writers, 6 rereads (out of a goal of 3), and read one non-genre novel.
The most interesting statistic I kept last year was print vs. digital. I surprised myself by reading 91 books in paper and 72 digitally. I thought I skewed toward e-books, so it's interesting to me that I'm not even at 50% digital reading. Some of this is due to reading for the
MFAs.
I rely heavily on the library to provide me with MFA reading, and though some are available as e-books, most are more readily available in print.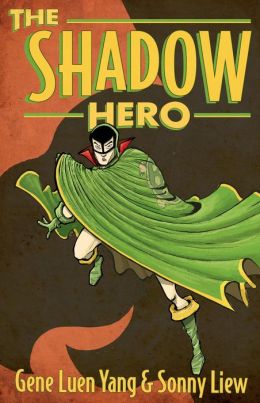 Highlights of the year?
Rereading Max Gladstone's Three Parts Dead--and seeing it make the MFA finalists list--was great fun. It's been especially fun to read more of the Craft books, both post-publishing and in mss format, in combination with playing Max's Craftverse game Choice of the Deathless. Without the books being required for the game and vice versa, they work so well in conjunction!


Finishing Devon Monk's "Allie Beckstrom" series was bittersweet, but starting the "House Immortal" books makes me confident there's more excellent reading to come.


I had the fantastic opportunity to interview Gene Luen Yang for the autobio project, and I read The Shadow Hero and Boxers and Saints in preparation for that. They were both some of my favorite reading for the year, for very different reasons. I'd recommend The Shadow Hero to anyone, but especially readers who have a fondness for Golden Age superheroes. Boxers and Saints is a fabulous moral and ethical investigation of a historical period with a lot of magical realism thrown in, and I found it both enjoyable and tremendously moving.


The biggest surprise read was probably Eleven by Tom Rogers. It's a book about 9/11, mostly from the perspective of a boy who's just turned 11, and it's fantastic both as an exploration of the event through fiction for middle graders and as a coming of age story. It was also pretty wild to realize that 9/11 happened before the middle grade age group was born--so it qualifies, on some level, as historical fiction.


I'd also recommend without reservation the Super Lexi middle grade books by Emma Lesko. Lexi is neurologically and developmentally different from her peers, which makes her a fascinating POV character, and Lesko's commitment to neuro-diversity in children's books shows in how beautifully she captures Lexi and makes her so easy to empathize with.


I loved finally finishing Shanna Swendson's "Enchanted, Inc." series, which for ages looked like it wouldn't get to continue beyond book four. (I'd still read more books in that world!)


I'm also really eager to see where the "Kate Daniels" (Ilona Andrews) and "Safehold" (David Weber) books end up next!
There were, of course, a lot of other great books, but listing them all would be fodder for TLDR (if I haven't already hit that point).
I was pretty happy with this year's goals, so I'm planning to keep them the same. Here's to another year of good reading!
Happy New Year! It's been some time since I posted; it was a busy year at Casa Abbott for non-writing reasons. We've welcomed baby Fish into our family, joining his sister Bug, Three-stripe, cats Jack and Tollers, and I as members of our household. But while I'm behind on many things, I've continued to read a lot! Since I posted
Shadowchild from Guest of Honor Ursula Vernon's
Digger
I've served on the Mythopoeic Fantasy Awards (both adults and children's lists for fiction, but not the scholarly juries) for several years now, and this was the first time I was able to attend the awards ceremony, which I was allowed to livetweet. (I'm
@alanajoli.
) This year's awards went to:


Mythopoeic Fantasy Award in Adult Literature: Helene Wecker, The Golem and the Jinni


Mythopoeic Fantasy Fantasy Award in Children's Literature: Holly Black, Doll Bones


Mythopoeic Scholarship Award in Inklings Studies: Jason Fisher, ed., Tolkien and the Study of His Sources: Critical Essays


Mythopoeic Scholarship Award in Myth & Fantasy Studies: G. Ronald Murphy, Tree of Salvation: Yggdrasil and the Cross in the North


The full announcement with book jackets and links to purchase is available on the Mythopoeic Society website.
This was my first year voting on the Hugo Awards, which was a very different experience. The MFAs are very much a juried award; the mailing list discusses the merits and flaws in the longlist and finalists throughout the process, and anyone participating in the jury is expected to read each as many on the longlist as they can and each of the finalists at least once. The Hugos, on the other hand, don't have any of that conversation, in part because there are so many voters that such an official mailing list might be ridiculous. There's also no real expectation that voters read anything other than what they want to, and they're free to vote for only their favorites if they like. Given my MFA training, I didn't feel comfortable voting in the novel category (where I'd not read, in full, any of the nominated works), but I did read all the short stories and novelettes and read selections of the writings by all the Campbell nominees. So I was eager to see the results this evening, which--as of this post--I've not been able to find listed anywhere. With the thought of saving others from going through the chat transcript of the
live awards coverage
(which does have some excellent commentary), I thought I'd list the winners here.


Campbell Award: Sofia Samatar


Best Fan Artist: Sarah Webb


Best Fan Writer: Kameron Hurley


Best Fancast: SF Signal Podcast


Best Fanzine: A Dribble of Ink


Best Semiprozine: Lightspeed


Best Professional Artist: Julie Dillon


Best Editor, Long Form: Ginjer Buchanan


Best Editor, Short Form: Ellen Datlow


Best Dramatic Presentation, Short Form: Game of Thrones, "The Rains of Castamere"


Best Dramatic Presentation, Long Form: Gravity


Best Graphic Story: "Time," Randall Munroe (XKCD)


Best Related Work: "We Have Always Fought: Challenging the Women, Cattle and Slaves Narrative," Kameron Hurley


Best Short Story: "The Water That Falls on You from Nowhere" by John Chu


Best Novelette: "The Lady Astronaut of Mars" by Mary Robinette Kowal


Best Novella: "Equoid" by Charles Stross


Best Novel: Ancillary Justice by Ann Leckie


I'm surprised (and occasionally disappointed) by some of these wins, but some of them please me tremendously. I'm especially pleased to see my taste reflected in the Best Short Story and Best Novelette categories; Kowal's novelette had me sobbing as I read it, and Chu's short story, the first of his that I've read, has turned me into a fan seeking out more of his work. I think it's great to see Kameron Hurley win not one but
two
Hugos; I loved her essay when it first came out, and I've been meaning to seek out her fiction as well. Now seems the time!
I also think the gender balance here is really interesting; for an award that has a reputation for having so many men as nominees and winners, this list has an awful lot of women on it! I didn't even realize the break-down until I was typing it up. I don't have any commentary on that other than just the observation.
Congratulations to all the Hugo, Campbell, and Mythopoeic Winners!
The Mythopoeic Fantasy Awards were announced last weekend at Mythcon 45, at which I had a fantastic time. (I made my first food sculpture, below, at the Mythcon Banquet, an annual tradition that I find wonderful. I love that the con in Mythcon could equally represent conference and convention; both words accurately describe the atmosphere, which is a mix of scholarly and fannish all at once.)
Substrate blog,
congrats to Max on his Campbell nomination! As I mentioned in my last post, there's been some complaint about a lack of diversity among the Hugo nominees, but there's nowhere that that's less true than the Campbell slate. Here's the list:


Wesley Chu


Max Gladstone


Ramez Naam


Sofia Samatar


Benjanun Sriduangkaew


I'm actually reading (and enjoying) Samatar's Stranger in Olondria in my current pile (which is divided among review books, jury books, and picture books...), and Chu's Lives of Tao/Deaths of Tao look right up my alley. Naam is a computer scientist and futurist as well as an SF writer, and though I'm not usually a thriller reader, I'm definitely intrigued by his profile. Sriduangkaew got nominated on the strength of her short fiction; according to other blogs that I've read, that happens very rarely. Regardless of who wins, the future of SF is bright!
Speaking of the future being bright, in July, my so-far favorite of Max's Craft-verse books,
Full Fathom Five,
comes out! Better yet, you can read the
first five chapters
at Tor.com right now!
As I just posted over at the
2014 Hugo finalists
came out. And the usual furor ensued about which authors are pushing which agendas--which is always an interesting conversation. Over at Tor.com, Liz Bourke posted "
Sleeps with Monsters: How about Those Hugos?,
" and I found the comments section to be an interesting cross-section of SFF fans. I found one of Liz's responses to a reader, who claimed one author promoted no agenda in his work, telling. She wrote: "You don't see the message, perhaps, because you agree with it. That doesn't mean it doesn't exist, nor that it doesn't alienate as many readers as it entertains."
Best novel nominee
Ancillary Justice,
by
Ann Leckie,
which has been recommended to me a ridiculous number of times, and which I'm looking forward to reading.
There are a lot of accusations about how nominees for the Hugos are selected because they promote certain PC agendas. These usually come from readers who enjoy traditional SFF elements, in novels which are frequently led by a white-cis-male protagonist. Disclosure: I like a lot of traditional SFF stuff myself, and I'm a fan of shared-world fantasy, which tends to revisit a lot of the old tropes over and over again. (Sometimes in new and interesting ways, but that's a conversation for another post.)
I also like books with female protagonists. I like books that show different cultures and different worldviews, and I like books in which the diversity of opinions and worldviews and ethnicities reflects the same sort of complex world we live in, rather than assuming one unified cultural identity. I have sometimes surprised myself by liking books that stray outside my normal relationship comfort zones. (
Triptych by J. M. Frey
was one of the novels that most impressed me in 2011. If it hadn't been recommended to me, I might not have read it, as I'd have thought it wasn't my sort of thing--and I'd really have missed out.)
I think that what people who talk about "diversity checklists" may not realize is that people don't nominate those books because they promote a certain agenda (though that might be part of it). People nominate those books because they
like
them. They
enjoy
reading that type of story. Those books provide the same level of entertainment and emotional arc for readers who like that sort of thing as traditional novels do for readers who like
that
sort of thing. And for people who are bored of the white-cis-male-led stories, there are still plenty of people who enjoy those books, and there's not anything
wrong
with that (so long as those books aren't the only thing being published).
People like what they like. As long as the world continues to be a diverse place, we're probably going to keep disagreeing about what we like and what's good. And as long as we can disagree respectfully, I think that's okay.
So, the