Enigma Bookstore
last weekend to see
Max Gladstone,
Laure Anne Gilman,
and
Hal Johnson.
But, you'll have to check back later this weekend for notes on that -- because it's the release day for
Showdown at Willow Creek
! The game hit the stands today, and I couldn't be more excited to have it out there in the world. To make things even more exciting,
Noble Beast Classics launched its Kickstarter,
and presuming it funds, I'll be writing a twisted version of
The Jungle Book
with shapeshifters for that project.
So, go check out the Kickstarter, and then read the fun official announcement for
Showdown
from Choice of Games (with the fantastic cover art, below, by
Ron Chan
) -- I hope you enjoy playing it as much as I enjoyed working on it!
--
We're proud to announce that
Showdown at Willow Creek,
the latest in our popular "Choice of Games" line of multiple-choice interactive-fiction games, is now available for
iOS,
Android,
Kindle Fire,
and, via the
Chrome Web Store,
Windows, OS X, and Linux.
Saddle up and defend the town of Willow Creek from nefarious outlaws and city slickers! It all starts when a rancher's daughter goes missing, and it ends at the showdown at Willow Creek, where greed, lust, science and Mother Nature will face off at high noon.
"Showdown at Willow Creek" is the interactive western mystery novel by Alana Joli Abbott where your choices control the story. The game is entirely text-based–without graphics or sound effects–and driven by the vast, unstoppable power of your imagination.
Gamble, seduce, brawl, or shoot your way through Willow Creek, where gunslingers make the laws, and everybody has secrets. Will you romance the gambler or the soiled dove (or both)? Will you side with the scientists bringing electricity to the Old West, or with a tribe of Native American Utes? Will you unravel the conspiracy that threatens to tear the town apart, or will you light the fuse to blow it all sky high?
Note: With "Showdown," we're experimenting with "try before you buy" on iOS, where the first three chapters are available for free. Android and Chrome users can
try the first three chapters for free
on the web. You can buy the rest of the game for $1.99–the same price on iOS, Android, and Chrome.
We hope you enjoy playing
Showdown at Willow Creek.
We encourage you to tell your friends about it, and recommend the game on StumbleUpon, Facebook, Twitter, and other sites. Don't forget: our initial download rate determines our ranking on the App Store. Basically, the more times you download in the first week, the better our games will rank.
Today's Friday, and it's supposed to be a guest blog day, so I was planning to write an entry about going to a fantastic reading/panel/signing at
Brian LeTendre
to write a guest blog about his latest novel,
Lovecraft's Curse,
I didn't expect myself to appear in his entry! Since Brian's been so vital in helping me find an audience for my writing -- Brian has been a huge supporter of the Redemption Trilogy since
Into the Reach
first came out, and was one of the first reviewers (and definitely the first interviewer!) to cover the book -- I'm excited to know that the support and inspiration travel in both directions.
Without further ado, Brian LeTendre!
--
My pal Alana Abbott graciously offered to let me guest blog over here on
Myth, the Universe and Everything
to celebrate the release of my new horror novel
Lovecraft's Curse.
Before I tell you about my book though, I want to talk a bit about inspiration.
Alana Abbott has been inspiring me to write since I met her in 2006. We were first introduced to each other right around the time
Into the Reach
was released. After interviewing her for my podcast (
Secret Identity
) and doing some playtesting for the
Chronicles of Ramlar RPG
(which she was working on), we continued to stay in contact. Alana did some guest gaming segments on the podcast, and we even covered WoTC's D&D Experience event with our pal Max Saltonstall in 2007, chronicling the release D&D 4th Edition. The rest, as they say, is history.
I fell in love with Alana's writing when I read
Into the Reach.
I read to escape, and my favorite stories are the ones that feature worlds I can immerse myself in. Alana's attention to every detail in the worlds she creates makes you want to live in them. She puts so much into the culture and history of the characters she creates that you can read her stories multiple times and always find something new to dig into.
In many ways, meeting Alana and reading
Into the Reach
inspired me to participate in National Novel Writing Month (NaNoWriMo) in 2007. I completed the 50,000-word challenge and came out with the first draft of what would become
Courting the King in Yellow,
my first horror novel. From that point on, I was on the path to taking my own writing seriously. I began doing freelance writing for a major comic news site covering games, and working on my own projects on the side. In 2010, I launched a webcomic called
Mo Stache,
which is still going strong today. Last year, I finally published
Courting the King in Yellow,
as well as a hot-to book about podcasting called
Making Ear Candy.
Which brings us to the here and now, and
Lovecraft's Curse.Lovecraft's Curse
is my homage to the man I consider to be the greatest horror writer of all time--H.P. Lovecraft. It's sort of a "What if?" story about his legacy and the things he wrote about. Here's a quick teaser trailer for the book:
Lovecraft's Curse
combines my two favorite genres, fantasy and horror. Parts of the story take place in the Dreamlands, one of Lovecraft's more famous creations and a place where worlds intersect and can be accessed through dreams. My main character Fela Barton is a young woman who has a connection to the Dreamlands that she doesn't understand, and it has put her and those around her in great danger.
If you think that sounds interesting, you can grab a digital copy of
Lovecraft's Curse
on either
Amazon
or
Drive Thru Fiction
, where you can get the print version as well.
Thanks to Alana for her continued support and inspiration!
When I asked friend of the blog
Into the Reach
was reviewed was over on
Flames Rising,
which was the start of a long relationship I've had with the site as an occasional contributor -- and the start of my relationship with
DriveThruFiction
and the other DriveThru incarnations. Matt McElroy who runs the site has been awesome to work with, and it's through Matt and the
Flames Rising
team that I got to work on the anthology
Haunted: 11 Tales of Ghostly Horror.
So it's with great pleasure that I've now come full circle with
Flames Rising
: Matt posted the
chapter one excerpt of the revised edition of Into the Reach
at the site today. Thanks to all the people who posted the news on Twitter! I saw it from you first!
In other news, I am working on
Choice of Pirate
for
Choice of Games,
and the folks over at Facebook have been helping me come up with pirate shanties to listen to while I'm writing.
Matt Ledder of Renaissance Festival Podcast
had perfect timing with his
Pirate Show Special,
which he posted on the 24th. The stars must have aligned just right for that to come together just when I needed it. Thanks, Matt!
Several of my friends from the
Michigan Renaissance Festival
helped me remember the name of a group I'd always tried to catch back between sets when I was singing with the
Arbor Consort
-- the Corsairs, who sadly disbanded in 2008. Luckily,
The Jolly Rogers
are still performing and selling CDs, so there's pirate music to spare!
What pirate music and sea shanties do you recommend? If you'd like to recommend the pirate movies in your top ten,
come join the discussion on Facebook.
Way back in 2006, one of the first places where
Over the past week, I've been thinking about what I prefer in fiction and interactive fiction -- I'm a characterphile (rather than a plot hound), and I like stories that revolve around inner turmoil and decisions rather than events driving the characters forward. What's interesting to me is those inner stories, and sometimes those involve romance. Or avoidance of romance. Or both. And I express that in games as well -- I'll replay a BioWare game just to see if I can achieve all the relationship unlocks with the NPCs. I have trouble thinking of more than a handful of my D&D character who weren't romantically involved with an NPC/PC in the story. (Heck, even the NPCs in games I DM often have a love interest at the table, known to the PC or not.)
So you'd think that when I'm writing games, the romantic interests would come easily for me. My first attempt in
Choice of Kung Fu
had two actual romance stories, then some extra NPCs thrown in just to be spouses, without having much character of their own. For
Showdown at Willow Creek,
I made all the romantic interests recurring NPCs, and I think it's better done -- although one of my playtesters showed that the coding didn't allow for quite as much snogging as she attempted. (There's still time to fix those bugs before it launches next month, so hopefully, you'll all have a seamless play experience!) I'm starting work on my next Choice game,
Choice of Pirate,
and I'm thinking about how the romances might work even more smoothly.
But along with accommodating for a number of romance options, it's also important to me to have an option to not get involved with romance at all. Several of the players I've DMed for over the years have run away from romantic hooks like the plague. (And sometimes the hooks were actually plague-bearing monsters of some kind or another, so they weren't
wrong
in that play style...) So, without losing out on any fun, the option to skip romantic entanglements should be there, too.
I started thinking about this last night after my second
Black Gate
blog post,
which actually had nothing to do with romance, but a lot to do with interactive fiction.
How do you like romance in your games? If you write games, how do you create compelling romance stories?
I should have known it wouldn't last when our D&D characters had no chemistry. I speak of my very first boyfriend, whose paladin once quipped "But all priests are good" to my suspicious, cynical elf bard. The character my elf did have chemistry with? An equally cynical elf fighter with a mysterious past, the player of which I married seven years after our characters flirted across the game table. Geek love, baby.
a very short but glowing review
to a debut novel,
Standard Hero Behavior,
by John David Anderson. When I discovered earlier this year that his second novel, superhero book
Sidekicked
was coming out, I rejoiced, not only because it meant more by Anderson, but also because Anderson was now an online presence: he's got a
blog
and is on
Facebook.
His blog used to allow comments, so I did get to gush on how much I was looking forward to the new novel before comments were disabled. (He was very humble in response, as I recall, though I can't find proof of that now.)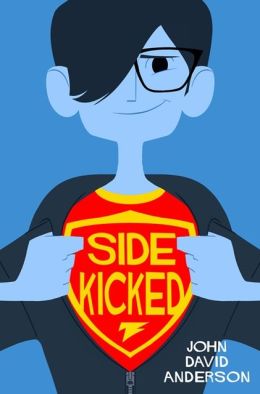 Sidekicked
did not disappoint. The book stars Drew Bean, the Sensationalist, a sidekick who doesn't have much in the way of combat ability; instead, he's got heightened senses, which is as much a pain on meatloaf day at school as it is when Drew is hanging over a swimming pool full of acid, waiting to be rescued. (Hey, at least he can tell you what kind of acid it is, just by smell.) When a major villain, thought to be dead, returns and frees his henchmen from the prison for supervillains, everyone is looking for Drew's hero, who defeated the villain the last time, but who has since vanished from the public eye. Drew's looking for him, too -- the man who was once his idol has left him on his own, making him less of a sidekick and more of an aside thought. It's tough to be Drew, but this young teen never gives up, and when he believes his friends are in danger, or just that someone has to do the right thing, he's willing to throw himself in the thick of things. Even when the results are disastrous.
While
Standard Hero Behavior
was a quest novel that ends up being as much about the relationship between father and son as it is about going on a heroic journey in a high fantasy setting,
Sidekicked
is about learning who -- and how -- to trust if you're a superhero in training whose Super has left the hero scene. But while I expected that mentor/mentee relationship to be the most important, it turns out that it's an entirely different relationship on which the plot hinges. I figured out the big reveal a little ahead of the characters in the book, but Anderson kept me guessing much longer than I expected.
From what I've been able to gather, Anderson is extremely under-read and under-known for the quality of his work. I think this should be remedied, so I hope you'll go check out his books, and then tell someone else about them, too. Anderson is off to a really strong start with his first two novels, and I hope that the book market will support him in publishing many more!
Back in 2008, I gave
Black Gate,
where I've previously been an occasional book reviewer.
My first post
is about Ursula Vernon's Hugo Award and Mythopoeic Fantasy Award winner
Digger,
which I loved and had fun getting to write about. Why am I over at
Black Gate
instead of just blogging here? They've got a great readership over there, and hopefully some of them will find their way over here to
Myth, the Universe, and Everything
-- and maybe decide to pick up the Redemption Trilogy when they're all finally released. It's a bit of marketing, a bit of fun, and hopefully a great fit for everyone involved.
As for my social media updates, I realized I don't have my
Facebook page
and
Twitter
on my website. This clearly must be remedied as I'm -- hopefully -- driving new folks over to
Virgil and Beatrice.
I'm also updating my Facebook page a lot more frequently than my blog -- every time one of my blog entries for
Questia
or
Cengage Brain
goes up, I post a notice on Facebook -- so if you're interested in my to-the-minute news, that's where you should find me.
Last thought for the day: every time I write about social media, using that phrase, the Common Shiner tune
"Social Mediasochist"
starts running through my head. It's catchy.
The big news of the day: I've started blogging about webcomics (and, soon, interactive fiction) for
Into the Reach
and
Departure
to be re-released as new editions. At long last,
Into the Reach
has been re-released! It's currently available through
DriveThruFiction
and
Smashwords.
I'll be releasing it at Barnes and Noble and Kobo as well -- and probably Amazon, though I'm hesitant about that for numerous reasons (but Bottom Line dictatese that it's a necessity) -- but I'm more concerned at the moment about getting
Departure
cleaned up and off to the backers than getting the widest distribution possible on
Into the Reach.
If all goes well, all three novels will be up everywhere by the end of the year.
So hurray! That's a big hurdle jumped, and I can move on to the next things. Or, rather, I can keep working on finishing up the details on
Showdown at Willow Creek
(renamed to give it more Western flair), which is in beta, and get prepared for that release, while
also
moving on to the next things. What's in store here for the next few months?
Edits and formatting on Departure


Work on Choice of Pirate, my next game for Choice of Games


Finishing up coding on the autobio project. The project is now in four batches per year instead of two, which means more authors and more fun. This batch features Shiloh Walker and Margaret Weis, who were both fantastic to work with!


Speaking of the autobio project, we've added some fun new structure, so along with the long essays, like Shiloh wrote for this batch, there are also interviews, like the one Margaret participated in. I tend to feature a lot of SFF writers, partly because I'm more familiar with their work, and partly because SFF writers respond really well to being invited. (Graphic novelists tend to be excited to be invited but too busy to contribute, though I keep following up!) I've been focusing on inviting romance novelists and have had a little success there, but I am looking for more mystery novelists, nonfiction writers, playwrights, and literary writers to invite. If you've got recommendations of approachable writers who interact with their readers online (that seems to be the recipe for successful responses to my invitations) who fit into those categories, I'd love to hear them!
One of the Redemption Trilogy Kickstarter stretch goals that got funded was the re-editing and prettification of
Kirkus Reviews
about a great contest they've announced for the 80th anniversary of the periodical. I'm posting the press release here verbatim -- you should all check it out!
--
FOR IMMEDIATE RELEASE
MEDIA ALERTWhat:
Kirkus is giving away a trip for two to New York City.
Why:
In celebration of its 80th birthday, Kirkus Reviews is hosting a contest to give away a literary tour of New York City. The winner will receive two round-trip tickets to Manhattan, two nights' stay at the Library Hotel, two passes to the Greenwich Village Literary Pub Crawl, gift certificates to several of the city's finest independent bookstores, breakfast at a round table at the Algonquin Hotel, and dinner at Public in SoHo.
How:
Visit
www.kirkusreviews.com/literarytour
and enter one's email address and name.
When:
Entries will be accepted from Monday, September 16, 2013, until midnight on October 22, 2013. The winner will be selected on October 23, 2013.
Where:
Visit
www.kirkusreviews.com/literarytour
to enter or learn more.
Who:
Founded in 1933, Kirkus has been an authoritative voice in book discovery for 80 years. Kirkus Reviews magazine gives industry professionals a sneak peek at the most notable books being published weeks before they're released. When the books become available for purchase, Kirkus offers the book reviews to consumers on Kirkus.com and in a weekly email newsletter, giving readers unbiased, critical recommendations they can trust.
Kirkus also has a full suite of author services, including Kirkus Indie, a book review service for self-publishers; Kirkus Editorial, book editing services for unpublished and self-published authors; and Kirkus Marketing, services that help authors get discovered by consumers as well as industry influencers, such as publishers, agents and film executives.
# # #
I just heard from my editor at
depleti,
back to
Myth, the Universe, and Everything.
Sarah was a huge help with pointing people to my Kickstarter, and now she's got a Kickstarter of her own that I'll let her tell you about in her own words. You can check out her original guest post, about mythology in her excellent webcomic (soon to be print, we hope!)
Thistil Mistil Kistil
here.
Please give her a warm welcome -- and then go contribute to her Kickstarter!
--
Hey everyone! My name is Sarah Schanze and I recently launched a
Kickstarter
to get my webcomic
Thistil Mistil Kistil
printed into a collected volume. Alana was nice enough to invite me to plug it and talk a bit about the comic, so here I am!
TMK is a fantasy adventure webcomic featuring Vikings, Norse gods, weird magics, and weirder creatures. The story focuses on Coal, a recently deceased warrior, who has to complete a quest for Odin in order to reach his promised afterlife. Things get tricky quickly since Coal needs Loki's help to complete this quest, and it's not clear how helpful Loki actually is.
One thing I've tried to do with TMK is show some of the more historical aspects of Vikings and the time period they lived in. While researching I was really surprised at how far Vikings actually traveled, not only to plunder and raid, but also to settle. Because of this, most of the main characters aren't warriors, but characters originally from other lands. There's Hedda, a Christian slave kidnapped from Ireland; Ibrahim, a young Muslim scholar from Al Andalus; and Arne, a found Native American child raised in Iceland. Of the main protagonists, Coal is really the only one that most might consider a "Viking".
Chapters of TMK also occur in places other than Scandinavia, such as Scotland, Ireland, Spain, the city of Constantinople, and of course Iceland and the "New World". Not to mention the more fantastic places like Asgard and wherever Loki actually lives.
While I try to remain fairly close to historical sources, I do take some liberties. Funnily enough, my greatest liberty is taken with the myths themselves. Since they were all written down by biased sources and heavily edited, I don't feel all that bad taking some myths and changing them around. So if you think you know where TMK's story is going, you might find yourself surprised. Maybe.
If TMK seems like something you might enjoy, please take a look at the comic, which is free to read! If you like that, maybe think about pledging to get your own printed book. To sweeten the pot, I created an original bonus story just for the book about how Loki met Thor and ingratiated himself with the Aesir.
Thank you so much for reading! And thanks, Alana, for letting me ramble.
I'd like to welcome Sarah Schanze, also known as
Black Gate
has run the reviews. Last August,
I reviewed Libriomancer,
and a couple of weeks ago I submitted a review for the newest book in the set,
Codex Born.
Here's the beginning -- and you can click through the link to read to the end over at
Black Gate.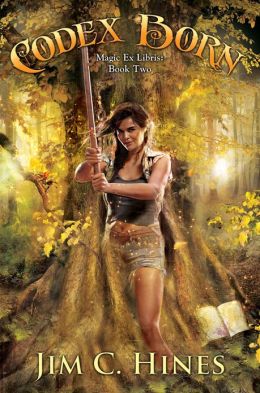 --
There aren't many writers who can start with the concept of a literal fantasy woman, pulled from the pages of her book to fulfill her lover's dreams, and turn her from a slave into a complex hero, struggling to understand her own identity and to create herself as a real person. Jim Hines is one of them.
Codex Born, the sequel to
Libriomancer,
is narrated by fantasy book lover and magician Isaac Vaino, but in many ways the book belongs to Lena Greenwood, a dryad drawn from a pulp SF novel and Isaac's girlfriend. Libriomancer concluded with Isaac and Lena and Lena's girlfriend (Isaac's former therapist) Nidhi Shah agreeing that they'd embark on a shared relationship — both Isaac and Nidhi would be Lena's lovers, which would allow Lena, product of her book, and thus destined to conform to her lovers' desires, a chance to become her own person by existing in the conflicting space between Isaac and Nidhi. In
Codex Born,
that relationship starts to play out — both Nidhi and Isaac struggle with the dynamic, but keep on trying for Lena's sake — and Lena continues to hope that she can find a way to preserve who she is, even if something happened to Isaac or Nidhi.
Read the rest of the review.
I've been very lucky to get put on the press list for Jim Hines's Magic Ex Libris series, and it's been great that