But speaking of the trilogy, I now have in hand the re-edits from Shawn Merwin for book 1. Within the next month, I will be able to take those edits and turn the newly revised manuscript into an e-book. I told Shawn that the red showing on the first two pages was a
little
intimidating, but he promised me it cleans up after that.
In the meantime, I've been keeping busy on the autobio project, writing obituaries, and working on my next Choice of Games project, a Western with a little bit of mystery to it. The autobios this batch are tremendously exciting. I've gotten to work with
Jim Hines
on an original essay that had the same balance of laugh-out-loud and heart-wrenching I've come to expect from his novels.
Joseph Bruchac
did a fantastic update about his years in Africa,
Pat Cummings
provided amazing graphics from her illustration process for her update, and Eloise Greenfield wrote about, among other things in her update, filming her
"Grandma Rap."
I always enjoy working on the autobio project, but this batch has been especially fun, and I'm really looking forward to seeing the final results once they hit the online databases.
Between review books, I'm also reading the
finalists for the Mythopoeic Society's Mythopoeic Fantasy Awards.
I've really enjoyed being on the jury for both the children's and adult lists over the past few years, and there are a bunch of really good ones up this year.
Reading anything good lately?
I (and the art-reward backers) have gotten two images of Lindsay Archer's progress on the novel cover, and I'm getting very excited about where she's headed. It's going to be a fantastic conclusion to the trilogy!
John Andrews
(whose tech articles I've linked to on the blog) about freelance life. He sent me a link to an article about copywriting, which advised how to always get paid for your work. The writer's answer? Get paid up front. Ben R. Palmer-Wilson, writing for
Design Taxi,
probably makes more money than I do -- he clearly works on the higher end of the copywriting industry, based on my read of his April 30, 2013, article, "
How to Always Get Paid as a Freelancer.
" Which is to say, he works for businesses, not directly in the publishing industry. Back when I first started as a freelancer, I read about pursuing clients outside of the publishing industry and decided not to do so, though it would mean a lower income on my end, because I wanted to stay as close to books and literature (and games!) as I could.
At my end of freelance writing, things work more like this:
Well, without the guns.
But I don't often get paid up front for anything. I sometimes get paid an advance, or part up front, which is great! But what I do get at the beginning is a contract. When I'm working for larger companies -- or small, trustworthy ones -- that contract is a binding agreement that's a reliable indication that I'm going to get paid at the end.
Sometimes, though, this happens instead:
That mostly happens with speculative work, where the company or editor is very forthcoming about the possibility of rejecting work even after it's completed. Sometimes it happens with large companies where they lose an invoice in the shuffle -- I've been able to recover all of those, but it can take awhile. And it's definitely happened with small companies that then evaporate.
The Kickstarter for
Regaining Home
is actually my first, paid-in-full in advance project ever. It's a novelty! I don't have any sage wisdom for always getting paid, but I do think it's worth noting that Palmer-Wilson's sage wisdom wouldn't work in my neck of the industry. I'd just get laughed right out of my contracts.
I had a conversation last week with
Vlad Barash
has posted a new excerpt from his
WIP LukOL.
If you like MMOs or music or both, make sure you catch the
tidbits
we've got up!
Next,
Madeline Miller
's
Song of Achilles
is listed as a "great reads at a great price" for the nook!
If you haven't bought it yet,
check it out!
Both
Max Gladstone
's
Three Parts Dead
and Madeline's
Song of Achilles
were chosen as must read books in the
Massachusetts Book Awards,
which makes them both finalists for the award. Congrats, Max & Madeline!
You can also follow some of the Substraters on twitter:
Substraters are all over the Web (and our blog).
LukOL.
I hope you'll check it out, and if you're not already subscribed to our feed on LJ, you can do that
here.
Other folks are also making new appearances online -- I just discovered that Baeg Tobar writer friend Daniel Tyler Gooden has a
facebook page
for his writing. He's currently promoting his recent self-published novel,
Cinnamon, Cayenne, and Fire.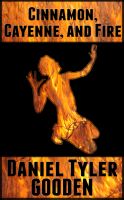 My
PW
editor for SFF reviews, Rose Fox, who blogs over at
Genreville,
is soon to be editing a Kickstarted anthology,
Long Hidden: Speculative Fiction from the Margins of History.
They've just hit a stretch goal that will be opening them to more submissions, and if they hit the next stretch goal ($9000 away with 12 days left), they'll be increasing the art to go in the anthology. I'm very excited about this book, and I hope that more folks will consider contributing, especially if you appreciate multicultural speculative fiction.
Clearly I'm promoting more Kickstarters than I used to -- what Kickstarter projects do you think deserve some extra love?
It used to be that on Tuesdays, I'd open my LJ feed and get bombarded with teasers from the various authors I followed. I don't know that Teaser Tuesday is still a thing, but after chatting with the other Substraters, we decided we'd promote that old tradition with our own Tuesday Tidbits. Each Tuesday (we hope!), we'll be posting a tidbit over at the Substrate blog from our various works. This week, Vlad Barash kicks us off with an excerpt from his current WIP,
Current Mood:

aggravated
Into the Reach
in his hands to edit, so I expect the momentum to start gaining on that project very soon.
In the meantime, I've been following a couple of other Kickstarters, including
Fireside Magazine,
which got funded and now has its
submissions guidelines posted
for flash fiction. I'm thinking of taking a look at my 3000 word short story draft of "Retirement" and seeing if I can cut it down. It needed work anyway, and maybe reducing its size would work out some of the problems that substrater
Max Gladstone
helped me identify when I first wrote it. (Speaking of Max, he has a guest post on
Romance of the Three Kingdoms
up over at
A Dribble of Ink.
Check it out!)
I've also begun work on my next Choice of Game, a Western currently titled
Kidnapping at Willow Creek.
As that's just starting, it's fun to see
Choice of Kung Fu
still getting some Internet love. Club Floyd, a group that plays interactive fiction together, played through
Choice of Kung Fu
awhile ago, and the full link to their experience of the game is available up at
All Things JACQ.
If you haven't played it, this is full of spoilers -- it takes you through all of Club Floyd's decisions on how to play the game through. There are multiple endings, of course, and multiple ways to get there, so if you're interested in seeing how other people played it, this might be a fun read. (Their commentary was certainly fun for me to see!)
In addition to writing, I'm reading longlist books for the Mythopoeic Society Fantasy Awards, review books for
PW
and
Kirkus,
and I'm one of the readers for the Amazon Breakthrough Novel Awards this year. It's the first time I'm reading for ABNA in the romance category -- I've done the YA section before -- and I'm having a great time. The two titles I've read so far were really enjoyable, and I have high hopes for at least one of those titles to make it into the final rounds. It'd be nice if the rest of my titles were as fun as the first two!
Since I can't talk about most the books I'm reading -- what are you reading now, and what would you recommend to other readers?
There are few things that sap my motivation as much as having a cold, and my house got hit last week with a whopper. Threestripe and I are both on the mend, but it's been a quiet, sleepy time around the house as we've made our best efforts toward recovery. Thankfully, the Kickstarter was in its two-week quiet period after the funding was raised but during which any kinks got worked out. Luckily, we had very few kinks, and all should be progressing forward very soon. Shawn Merwin already has
Regaining Home Kickstarter.
Regaining Home
is go!
(Clearly, I am influenced by Bug's taste -- when I hear the phrase "We did it!" I can't help but hear Dora the Explorer's ending song.)
What this means so far is that we definitely have the funds to bring out
Regaining Home
sometime by the end of this year. We are less than $300 short of our first stretch goal, which would allow us to edit the first two novels and make them available in multiple formats, rather than just pdf. As I write this, we have 69 hours to go -- it could still happen!
Thanks to everyone for continuing to support the project. Seeing so many familiar names among the donors -- or the retweeters or the facebook posters -- has meant the world to me.
We did it! This morning, an increased pledge pushed us $55 over our funding goal on the
And this:
There are still three days to go and just over $500 left to raise (and another $350 would get the original books reedited and up in multiple formats). If you've been thinking about contributing, or want to send word around to others who will make it a reality,
please drop by the Kickstarter and spread the word!
Luckily, I have plenty of other projects to keep me busy! I'm just finishing up a batch of obituaries from famous individuals who died in 2012. One was Roger Sherman, who wrote the songs from
Mary Poppins
and other Disney films -- including a movie I'd not thought of for years:
The Gnome-Mobile.
I don't remember anything about the plot, but I do remember the very catchy jingle, "The Gnome-Mobile, the Gnome-Mobile, we're riding along in the Gnome-Mobile. Sooner or later we feel that we'll find what we want in the Gnome-Mobile." (Lyrics are from memory; I've not Google checked to make sure that they're correct.)
I also get to write an obituary for Maurice Sendak, who I'm saving for last.
I'm also delighted to say that I'm signing a contract for my second
Choice of Games
project, just as soon as the printer cooperates. I'm extremely pleased to be working with those folks again, and I'm delighted to continue to increase the amount of my living that I'm making from writing games. As a high school friend once told me about my career: I'm living the dream!
It's true what they say about Kickstarters being crazymaking. I am vacillating between:
the Regaining Home Kickstarter.
Almost 40% of the pledges don't have referral information, but I thought this was an interesting rundown of some of the other percentages:
Almost 33% of my donations have come linked from Facebook


Around 10% come from somewhere inside of Kickstarter's system (and most of these are from folks I don't personally know


About 3% come referred from LinkedIn


I make up about 4% from Livejournal, my homepage, and twitter


The most surprising: a full 3.5% came referred from the fantastic web comic, Thistil Mistil Kistil by Sarah Schanze
Loki, from TMK by Sarah Schanze
Sarah, I owe you cookies or something. Thank you for sending your readers my way -- and thanks to everyone who's been spreading the word on Facebook. Clearly, that's working!
One of the interesting things about running the Kickstarter is seeing where the donations come from -- not just meaning people (I recognize the majority of the names on donations, and I am incredibly grateful that some many people from so many different parts of my life believe in this project), but websites. The Kickstarter dashboard shows where people linked from to get to
Regaining Home Kickstarter
should be popping up with me around the net, which is great, since we're getting into the final half of the campaign. Things are, thus far, going quite well -- as of this writing, we're at 58% funded with 14 days to go. But the extra press will definitely help toward reaching (and exceeding???) that goal. The podcast interviews were also a great chance for me to chat with some very cool podcasters.
Brian LeTendre
of course is an old friend of the blog -- he and I go way back to the very first days of
Into the Reach
being released, and Brian was a regular in my Mythic Greece game back when those heroes were still out changing mythology. Chris Sniezak of
Misdirected Mark
is a friend of Shawn Merwin's (Shawn is, apparently, a regular guest on the podcast), and also a great interviewer. I had a tremendous time chatting with both of them, and I highly recommend both
Secret Identity Podcast
and
Misdirected Mark
(which I started listening to and got totally involved in after finishing my interview with Chris).
Chris also made me aware that I hadn't updated my website since Choice of Kung Fu came out, so clearly that needed to be fixed. So instead of working on obituaries tonight, I've been updating my page, playing
Marvel Avengers Alliance
on facebook and
Fallen London
in another tab, listening to podcasts, and watching
cute videos of baby elephants.
All in a day's work!
Over the next two weeks, interviews about the
asakiyume
posted on facebook:
2013 Creative PAY IT FORWARD. The first 5 people to comment on this status will receive something from me this calendar year - a surprise gift of some sort. There will likely be no warning. It will happen whenever the mood strikes me. The catch? You must also post this as your status and pay it forward. (Please PM me your address if you are one of the first 5).
I thought this was a fantastic idea, and, knowing how wonderfully creative
asakiyume
is, I definitely wanted to get in on that action. Not being super crafty myself, I posted to my own facebook page that I'd produce some sort of story snippet for people who posted on my page. It never occurred to me that baking would count toward the creative pay it forward until I received these in the mail:
Six cookies (one not shown here because its broken arrival meant I ate it immediately) that were as beautiful as they were delicious! Now, I am no artist, but I do like to bake, and I've come up with a few fun words about molasses and a small hero named Elias that my own pay-it-forward friend will be receiving.
A close up of my favorite image by the fantastic
asakiyume
One of the things I'm noticing about having a
Kickstarter campaign
up and running is that I'm far more likely to donate to other people's Kickstarter campaigns. I'd donated to two, and one indiegogo, in the few years before starting my campaign; I've doubled the number of campaigns I've backed in the last two weeks, and I expect that trend to continue. There's something about funding other people's creative endeavors that's really satisfying, and because I'm so grateful that people are funding mine, it makes me even happier to give to others. I suspect that's one of the reasons Kickstarter is so successful -- and hope that other people feel as good about contributing to mine as I feel about contributing to others!
At the beginning of January,