Enter Google.
The new Hangout feature on Google+ allows for unlimited (as far as I know) video connections on the same feed. And so, Substrate gathered, to me all on one screen, and we discussed a role playing setting and two short stories (one of which was mine), much to the benefit of those of us who had pieces critiqued. It was great to get the gang back together (as
Kermit
says), and I'm excited to get to work revising "Good Company."
--
Super exciting good news since I last wrote:
Haunted
came in first in the Critters Writers Workshop Preditors and Editors Readers Poll!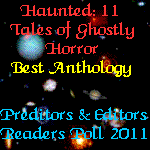 We also got a very nice review from Dave over at
Hellnotes
.
I couldn't be more pleased with how well
Haunted,
is doing, and I hope those of you who have picked it up have enjoyed it!
Last weekend, Substrate got together -- mostly in Boston area, but a few of us stragglers couldn't get to the physical location. We logged onto Skype, our usual long-distance communication technique, and realized that with two of us off site, we couldn't all have video.